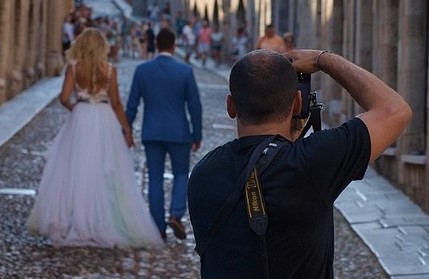 You have gotten engaged, set a wedding date, and now you need to find a photographer. After all, you want to have a wedding album to look at years from now and remember your special day. So how can you find the photographer that will be right for you and do a good job? Well, here are some tips on how to find the right wedding photographer.
Talk to friends and relatives –
The best way to find someone is to talk to people who have recently gotten married and have had pictures done. Find out who they used and whether they were satisfied.

Talk to the photographer –
Once you have found a few photographers, go and talk to them to find out what their rates are. Find out what kinds of things that they offer and, of course, if they are available on your wedding date. If you haven't been referred to them by someone, you might want to ask to see samples of their work and references.
Wedding pictures are a big part of your day, and there's no second chance to get them done if they don't turn out right the first time so it's important to know that you are choosing the right person for the job.
If you don't have a lot of money but you would like a video of your wedding, you can always ask a friend to do one for you as a wedding gift. After all, you won't be able to be everywhere at once and you want to be sure that you can see your guests having fun.